Reduce costs with automated dispatching
Hellotracks brings you simplicity and speed in managing thousands of daily orders. With route optimization, automatic allocation and bulk job uploads, you'll cut dispatching costs and easily reduce mileage and route redundancy.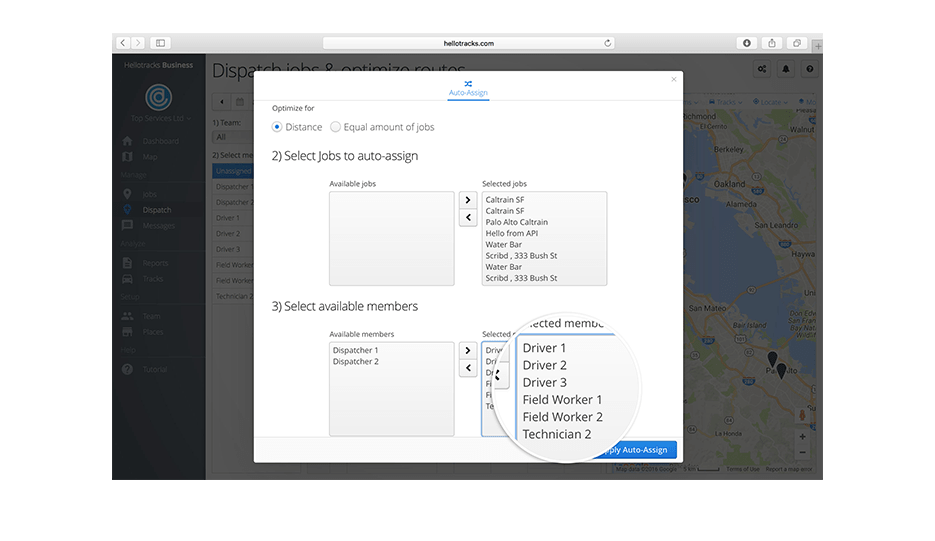 Simple Job Management
Create, assign and automate jobs easily and effectively. Your customers will be satisfied with timely deliveries and you'll have time and space to get the job done.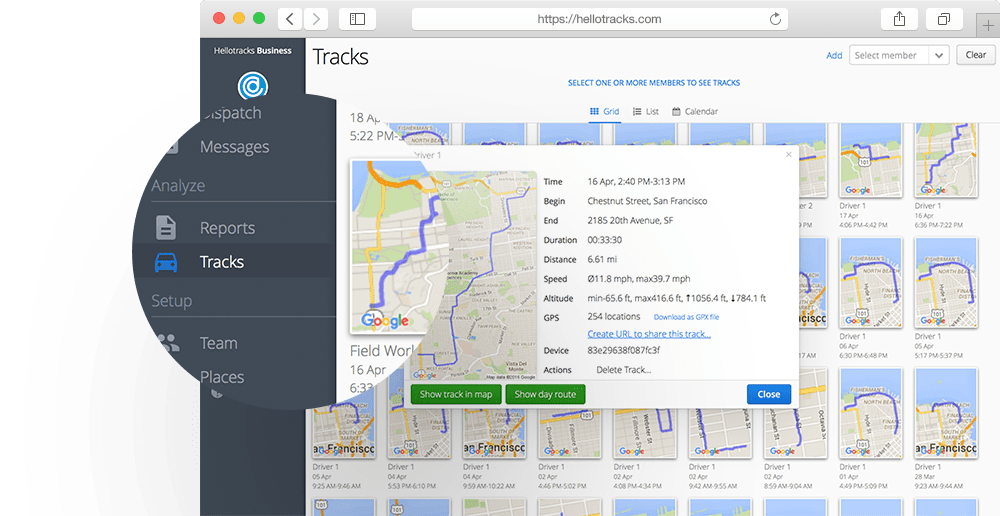 Real Time Position
Keep track of your staff out in the field. Know their next move based on hard data. Boost staff performance with hassle-free interaction minute by minute.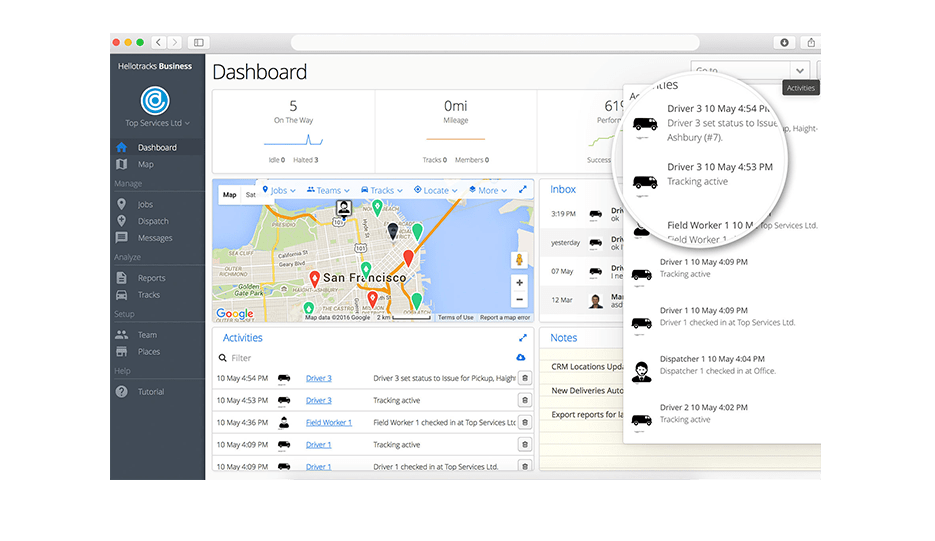 Organized & Optimized
Massively reduce your paperwork with streamlined, automatic data collection. With your records all in one place, you can make informed decisions easily and confidently.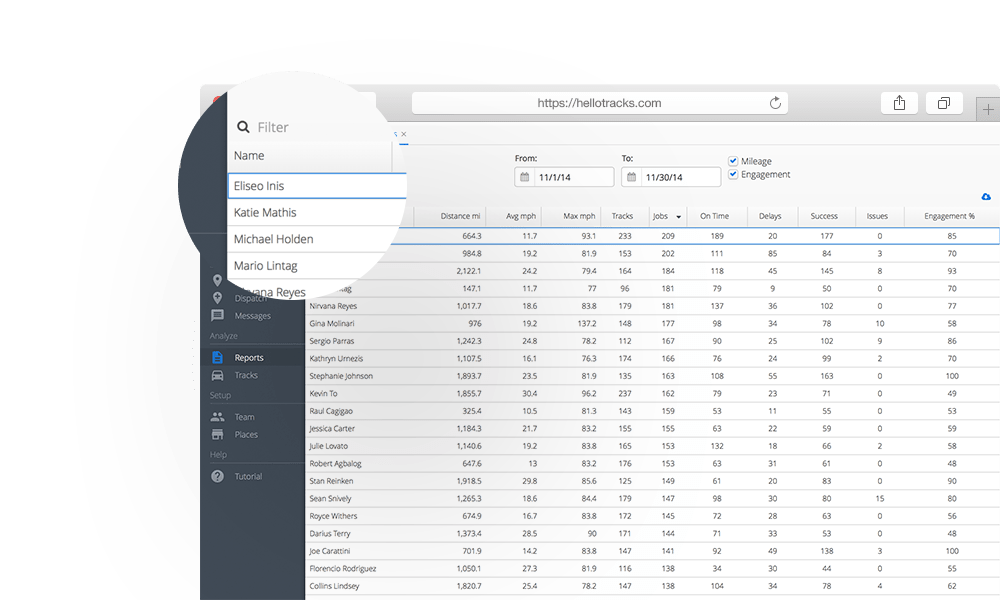 Performance Reports
With real data reports you can create accurate invoices quickly and easily, analyze staff performance and increase their engagement with interactions that measure their progress.
Quick & Easy Data Input
With a simple and easy to use interface, your staff will be able to record all the necessary job information at the push of a button, so they can get straight back on the road.
Navigate with ease
With live GPS tracking, the app will also find the fastest route for each team member's next delivery. With smooth navigation and easy communication, you'll be hitting your targets faster than ever.
"Hellotracks has been very easy to implement and it's helped us to better manage our field staff, improve asset recovery and improve overall field operations through real-time visibility."
Neil B., Operations
Lyft, Inc.
"The management tool is very easy to use and engage between the dashboard and device app and the API integration is adaptable for our business. Hellotracks team has been an excellent partner that actually cares about the success of our team."
Lawrence D., Senior Product Manager
CitiBike, Operated by Motivate
"Hellotracks helps us to dispatch workers and manage our assets across Europe. The platform is easy to use, the API provides a lot of information and allows to dig deeper into what you can do with this tool."
Samori Osei, Senior Operations Specialist
Bird
"Hellotracks helped us to improve routing efficiency and allowed auditing of daily routes."
Ryan Gallagher, Operations Manager
Bay Wheels
"Hellotracks has been extremely valuable for us and the team is very responsive to questions."
Micah Stone, Director of Business Intelligence
Wheels
"Hellotracks is a great routing tool and a good tool to keep track of the crews while in the field."
Anthony Pate, Maintenance Section Chief
Houston Public Works
"Hellotracks allows us to monitor staff and has helped us to increase in productivity"
John Mooteealoo, Head of Service
Islington Council,
"Our organization has used technology to give us a competitive advantage were our bigger and more established competitors held the advantage. Hellotracks is what Google promised with Coordinate, but never developed. The ability to track where your field staff did throughout the day is what sets Hellotracks apart."
Christian Reyes, Principal
PTS Group
"Hellotracks changed the way we control our fleet for deliveries of goods and services. The system as a whole offers all the resources we need to get in control of the jobs and people working on them."
Bruno D., Administrative Director
Gráfica Ingral
"Great Product!!! Easy to install and use, great reporting and tracking. The staff is awesome."
Jose Jacobo, Senior Operations Manager
Select Express & Logistics
"Hellotracks is very useful and helps us to organize our tasks."
Caroline Risi, Assistant CEO/HR
Hansa-Flex Hydraulik AG
"Amazing experience! We can get a perfect overview of field staff activities real-time and at a glance. It's so easy to dispatch and track the work in the field. It allows dynamic planning!"
Patrick Grossman, Head of Operations
Grossman Automatic Doors
That's a lot of Dispatch features. Let's review.
Quick-Assign
Quickly assign a job to the best available employee.
Batch-Dispatch
Batch-dispatch hundreds of jobs distributed to all your available employees with a single click.
Repetitive Sequences
Create sequences for repetitive routes.
API
Full REST API integration to create and update jobs with your internal infrastructure and services.
Email Job Creation
Create a job by simply sending an email. This makes integration with services like Zoho, IFTTT and Zapier easy!
Import Excel
Create jobs by importing from Excel or CSV files.
Route Update
Your employees receive route of the day updates in real time.
Mobile Route Optimization
Your staff can optionally trigger route optimization from within the mobile app.
Automatic Check-ins
Get automatically notified when an employee arrives and leaves at the job's location.
Job Data
Attach all useful data to a job and define fields to be entered by your staff on completing the job.
Signature Capture
Your employees can attach additional data to each job e.g. uploading images and signature capture of your clients.
Real Time Status
The status of your job if done or in progress is fully visible to all operators in real time.
Reports
Job reports give proof of success and can be shared.
Job History
You can keep all jobs archived forever. No insight ever lost.